Click photos for larger view
 
Authenticated aka "Lily" 
Sire:  Authentic Sonny
Dam:  Rustlin' Rosie
2018 – Billings, Spokane, Pocatello (2x)
First Aged Mares all judges, all shows. Grand and One Reserve Grand (Spokane).
First Aged Mare Halter every show and Grand under every judge.
Firsts in NP Mares – Billings, Pocatello.
1st and 2nd at Spokane.
---
Sucha Classic Belle aka "Cali"
Sire: Classically
Dam:  Parabelle "Meeka"
2018 – Billings, Spokane, Pocatello
Firsts in all Yearling Mare classes.
2 Reserves Pocatello and Billings
---

Della Belle aka "Poppy" 
Sire:  Indelible Image
Dam: ParaBelle
Earned her ROM in Halter
---

Snow's Gift  aka "Missy"
Sire:  Mighty Black Bart
Dam:  Mighty Secret Snow
ROM Color, 5th NP Mares, 2015 World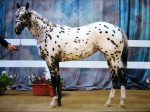 1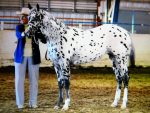 pt show at Belgrade, MT Sept 18, 2010
First Place Yearling Filly
Reserve Grand Champion Mare
First Place Most Colorful
First Place Longe Line
Picture on left taken at the 2010 Spokane Show.
Missy also has points in Yearling Halter, Most Colorful and NP Halter between the Spokane and pic on right at 2010 Bozeman (MT) shows.
---
Awe This N That aka "Sassy"
Sire:  In Awe
Dam: Solidly Conclusive
Sassy (2016) – Winning at halter as a yearling.
---

FE Red Rider aka "Red"
Sire:  An Awesome Secret
Dam: Rustlin' Rosie
PEAC 2013 Show News:  1st 2yo Geldings and Res. Grand Gelding under all judges. A good start to a budding career!
---
Executive Rustlings  aka "Farrah"
Sire: Mighty Black Bart ( Mighty Rustler x Plaudit Sunbright)
Dam: Classic Ebony (Upper Classman x Senorita Love)
Congratulations to Leslie Kramer and Executive Rustlings aka Farrah winning both NP and Open Keyhole at the 2012 World Championships!
Farrah has points in:
Open in hand mares
Junior trail
Open yearling Longe line
3 yo snaffle bit western pleasure
Novice non pro equitation
Non pro novice trail
Non pro novice western horseanship
Non pro novice hunter under saddle
Non Pro novice showmanship
Non pro 35 & over english equitation
Non pro 35 & over horsemanship
---
Mighty Be A Legend, 2005 gelding
Sire: Mighty Black Bart ( Mighty Rustler x Plaudit Sunbright)
Dam: Rustlin' Rosie (Mighty Rustler x Ms Mighty Joker)
FLASH!
2010 Canadian National Championships!!
Congratulations to Michelle Holzwarth and Mighty Be A Legend aka "Preston" on their fantastic wins!!
CNC Junior Trail
14-18 Youth Trail
14-18 Youth HUS
14-18 Youth Bareback Equitation
14-18 English Eq (WOW)
Also:
4th 14-18 Youth Showmanship
4th Halter
3rd 14o-18 Western Eq
7th 14o-18 Youth WP
3rd Jr HUS
4th Hunter in Hand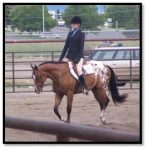 Preston, ridden/trained by 16yo Michelle Holzwarth, got 1st/4th HIH geldings, and won 3yo SB HUS under both judges.  2008 Fistfull of Silver Spokane Washington
---

Bittersweet Legacy  2003
Sire: Mighty Black Bart ( Mighty Rustler x Plaudit Sunbright)
Dam: Goin ToBe A Lady ( Goin For Approval x Rustlin' War Lady)
8th Yearling Stallion HIH, 2004 World Championships
---

My Chrystal Chandelier
Sire: Mighty Black Bart ( Mighty Rustler x Plaudit Sunbright)
Dam: Chrystal Chandelier
Congratulations to Nita Davis and My Chrystalchandelier "Chancie" was undefeated in Heritage – 8 judges, 8 firsts!!!
159.5 Lifetime Points
ROM – Halter
ROM and Superior – Color
2006 World 5th place – Heritage
9.5 pts Heritage
ROM – HIH
Points in NP Halter, NP Showmanship, NP Color, and Foundation Halter.
NOT FOR SALE