Foaled April 5, 2011 –  Filly!  "Chica"
Sire:  An Awesome Secret (The Secret x Shes Pretty Fancy)
Dam:  Rustler's DeeDee (Mighty Rustler x Para Tammy)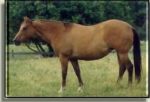 A lovely filly and everything I could have asked for.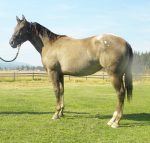 ---
Foaled April 9, 2011 – Colt!    "Red"
Sire:  An Awesome Secret (The Secret x Shes Pretty Fancy)
Dam:  Rustlin' Rosie (Mighty Rustler x Ms Mighty Joker)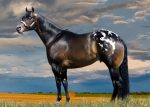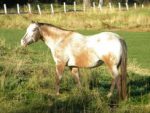 (Red's photos courtesy Darlene Neisess)
FE Red Rider
Red is 16.1 as a 2 year old!
PEAC 2013 Show News:  1st 2yo Geldings and Res. Grand Gelding under all judges. A good start to a budding career!
He's classy, he's smooth,  he's a quick learner, he should be a rider deluxe.
He is PSSM n/P1 but is non-symptomatic.  SOLD!