ALL foals by Mighty Black Bart are eligible for the 2007 ApPHA World Futurities.
Filly!  Bart's Morning Dove "Dove"
Sire:  Mighty Black Bart(Mighty Rustler x Plaudit Sunrise)
Dam:  Rustler's Dee Dee (Mighty Rustler x Para Tammy)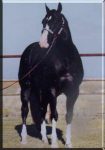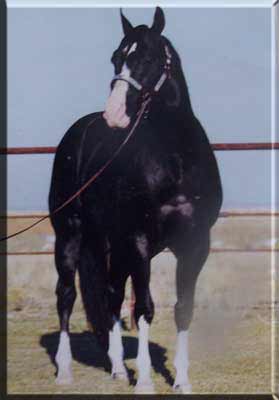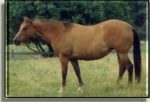 Awesome filly with hip spots and 4 sox. Anyone's dream filly.
Quiet and sweet, she has more potential than I can say.  Sold!
---
Filly!  Bart's Pixie
Sire:  Mighty Black Bart(Mighty Rustler x Plaudit Sunrise)
Dam:  Enchanted Pleasures (Pleasant Dreams x Mye Enchantress)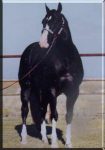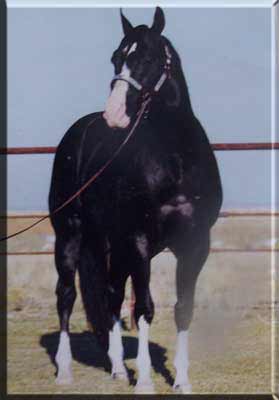 Pixie is an absolutely elegant daughter of Res. World Ch Mighty Black Bart and out of a daughter of none other than World's Best Appaloosa Pleasant Dreams. Pixie has tons of presence, super pencil neck and a "look at me attitude" – she even herds the wild geese that land in the field! She will be a working fool, stop and give you change. Regular papers, eligible for BT and 2007 ApPHA World Futurities.  Sold!
---
Filly!  "Toots"
Sire:  Mighty Black Bart(Mighty Rustler x Plaudit Sunrise)
Dam:  Classic Ebony (Upper Classman x Executive Senorita)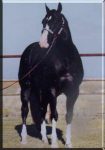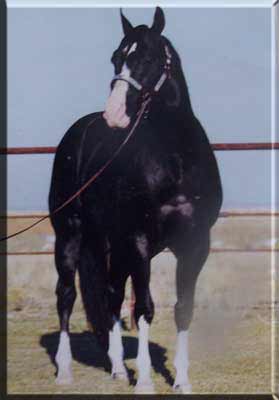 Flashy filly by Reserve World Champion out of futurity winning daughter of World Ch. Upper Classman out of double bred Executive mare.   Awesome breeding, this filly should ride.  Sold!
---
Colt!  "Sir Harry"  aka "Preston" 
Mighty Be A Legend, 2005 gelding


Sire: Mighty Black Bart ( Mighty Rustler x Plaudit Sunbright)
Dam: Rustlin' Rosie (Mighty Rustler x Ms Mighty Joker)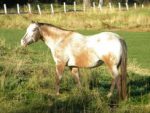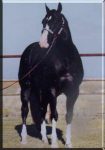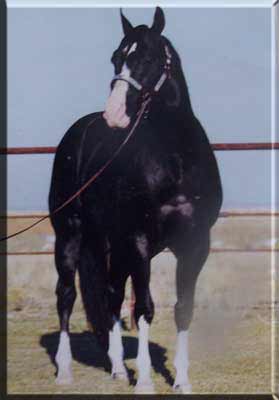 Congratulations to Michelle Holzwarth of Billings – Montana's Jr Princess!
Watch for this pair, they will be a tough team!
Preston, ridden/trained by 16yo Michelle Holzwarth, got 1st/4th HIH geldings, and won 3yo SB HUS under both judges.  2008 Fistfull of Silver Spokane Washington.
---
Filly!  A Dream For Lady "Dream"
Sire: Dream's Reward ( Dreamfinder x Jus Plain Perfect x Skip's Reward)
Dam: Rustlin' War Lady ( Mighty Rustler x Sleepy Time x Joker's Sleepy)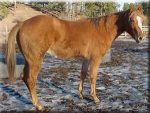 A well muscled 2005 filly that should advance to regular papers this year. She is royally bred with Dreamfinder, Mighty Rustler, and double Joker B – she sure should be able to do anything you wish.  Sold!
---
Colt!  Rustlin' A Texas Moon "Cody"
Sire: All Around Texas (Texago x Impressive Queen )  HYPP N/N – no Impressive blood
Dam: J's Rustlin Princess ( Mighty Rustler x Plaudit Sunbright)
Cody has lots of substance and a mane and tail to die for that accent his lovely neck put on the right way, and a deep and powerful hip. He will look pretty sexy once he gets his jowls and his head 'dries'. He is not roaning and should keep his color very well. Cody is a black palomino (also known as a smoky black) as confirmed by DNA testing from the University Of California. He can produce the sought after colors of black, buckskin and palomino offspring! The icing on the cake – his Canadian papers will carry the F4 designation once the applications are processed.  Sold!  Connie Hunter at [email protected]
Cody's sire is All `Round Texas, two time Alberta Stock Horse of the Year, Cdn Nat Champion and Cdn National Ch sire. Cody's dam is full sister to both Reserve World Champion Mighty Black Bart and Rustlers Jazzman. These stallions have sired futurity Winners, ApHC Ch, Cdn Nat Ch, Top 10/Top 5 World Finalists (Bart)and ROM offspring. Their sire was multiple medallion sire Mighty Rustler.